Planning to travel during COVID raises several questions. Personally, I'm pretty COVID-cautious so feeling safe and protected as best as possible while traveling is extremely important to me. Among the questions I asked myself as I prepared to travel to Miami and the Florida Keys were:
How serious will the airports and airlines take their stated COVID protocols?
At the Oklahoma City airport, the crowd at security was pretty low. I had to pull my mask down briefly for TSA to match my face to my ID, but otherwise, TSA was smooth and physically distant.
At the gate it was a mix of people fully masked and people with their nose sticking out. There was a group of 12 or so passengers who didn't have their masks on much at all. They were, however, all traveling together and stood away from the main gate area prior to boarding.
The DFW airport was similar to Oklahoma City. Groups traveling together often had their masks down below their chins, but they sat removed from the larger boarding section.
I was most impressed with the Miami airport. Easily 95% of the people in the airport were fully masked (noses and mouths) everywhere I looked.
The airline worked to keep passenger groups spread out during the boarding process and all passengers had their mouth and nose covered once on board. The flight attendants kept an eye on it during the flight and made reminder announcements when needed.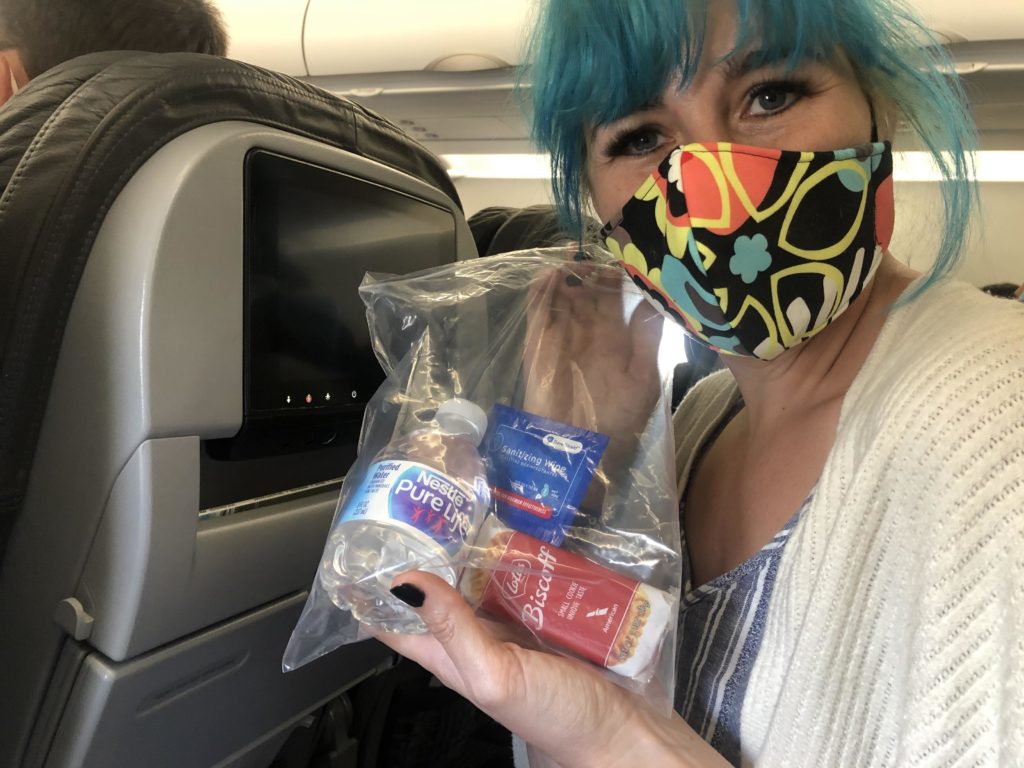 For the flight to Dallas there was no food or drink service (usually it's only long enough for a drink to be served). Food service between Dallas and Miami was a bottle of water and a biscotti in a bag which the flight attendant passed out during the boarding process. With only 2 hours and 45 minute for the flight time, I was fine with the limited service.
Disembarkation on arrival is still pretty clumped with minimal physical distancing. I'm not sure how the airlines could do this better since everyone wants off the plane the minute it lands and going by rows could cause a missed connection. If being close to other passengers as you wait to disembark is concerning to you, allow extra time between connections so you can wait as other passengers leave the plane.
How COVID-safe will I feel at my destination?
I was again impressed by the services as the Miami airport. Dollar car rental workers were masked through the entire pick up process as well as when the car was returned.
I stayed in four different hotels during my time in Florida.
The Reach, a Curio Collection in Key West, has a restaurant on site that offered outside dining. The wait staff and host were masked and patrons were distanced. At the pool and on the beach, once guests were settled, masks could be removed, but in the lobby and moving between locations required masking. There was space between the beach chairs and reminders to distance. Keyless check-in through the Hilton app minimized time at the front desk. They also provided adequate access to sanitizer and reminders for limiting the number of people in elevators.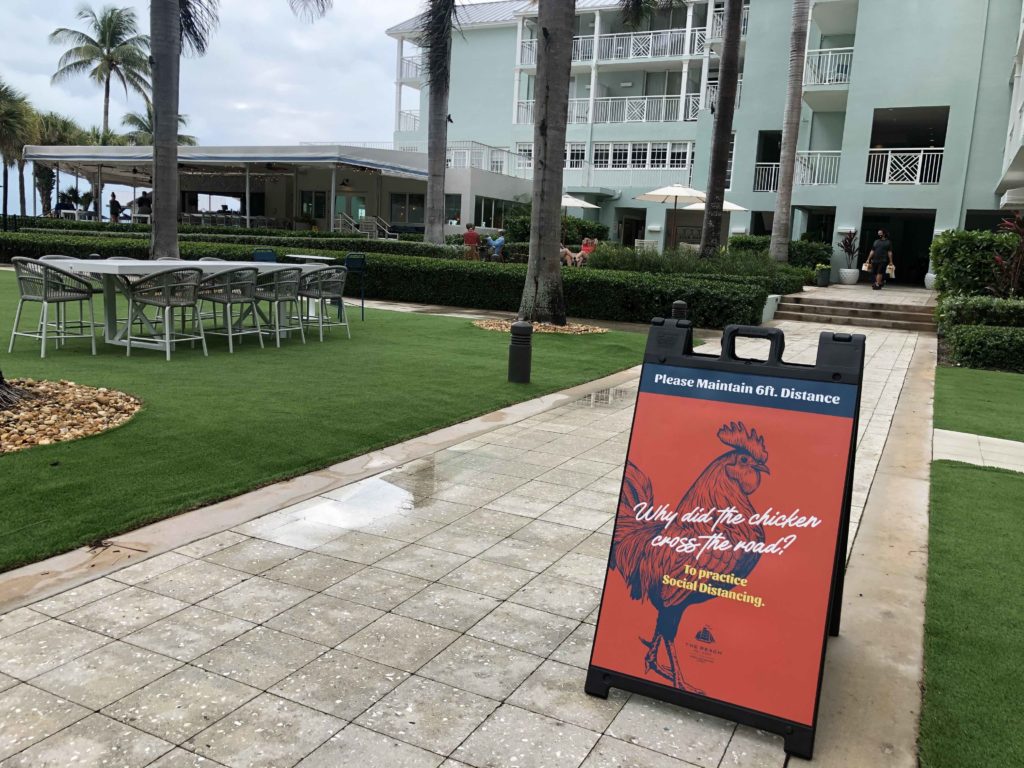 In Marathon, the Hampton Inn had reminders to limit elevator capacity, contactless check in, and boxed breakfast. I didn't have the Hilton clean seal on my door when I arrived, which was disappointing, but the room was clean and it didn't appear anyone had been in since the cleaning process was finished.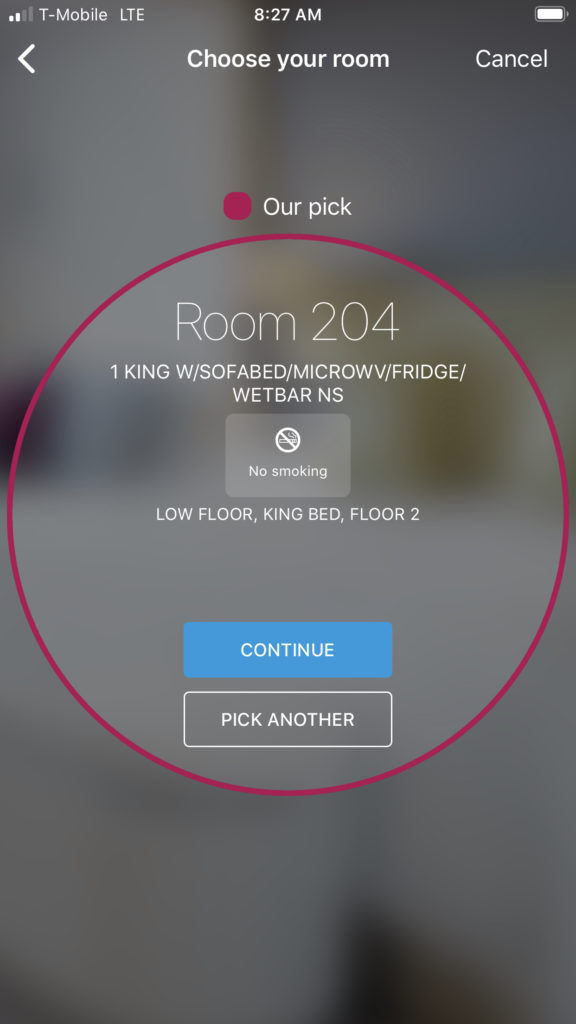 The Baker's Cay Resort, a Curio Collection, in Key Largo is a large beach-side resort. The contactless check in through the Hilton app did not work for me with this resort, but check in took place in my car at the resort entrance gate. This still allowed a limited exposure to others. Masks were required except while dining, at the pool, or at the beach. Resort employees were serious about masking. I overheard the beachside bartender tell a guest that she needed to put on her mask before she came up to order. Hand sanitizer and outdoor dining were easily accessible.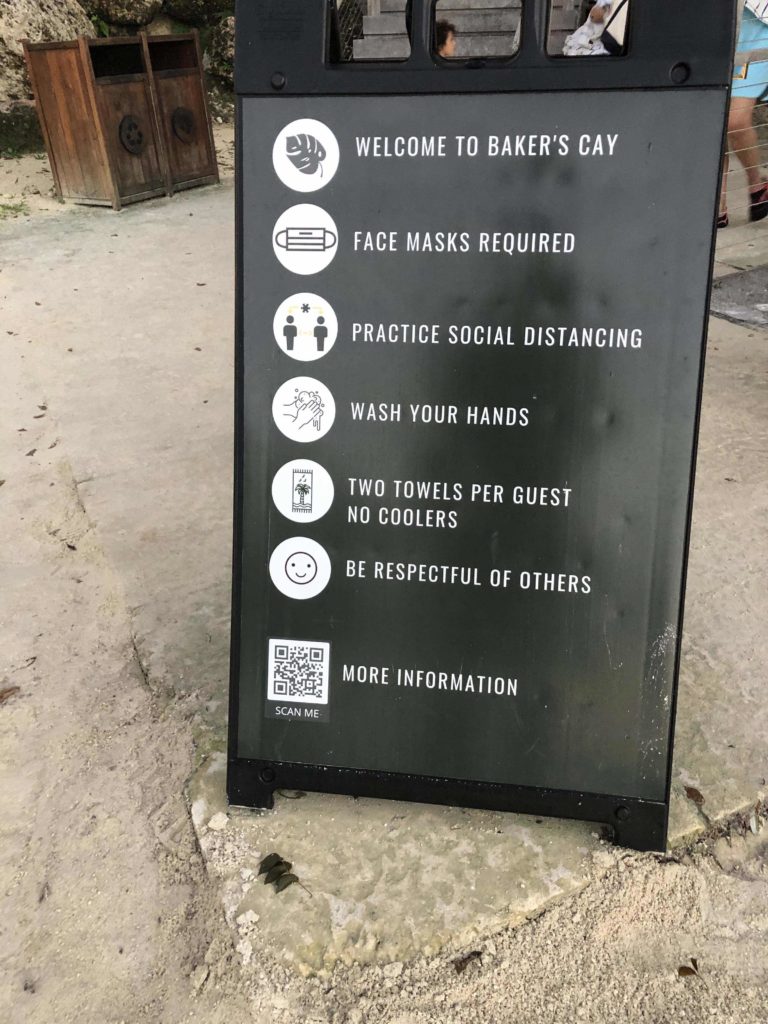 In Miami, the Marlin hotel required in person check-in, but masks were required to enter the building and the check in process was quick. They had reminders to distance, reminders to limit the number of people in the elevator, hand-sanitizer available, and had lessened their in-room cleaning during the stay to help limit the number of people in and out of rooms. The only change I would like to see is correcting the valet's masking. He didn't wear his mask inside my rental as he pulled up nor when bringing me the key.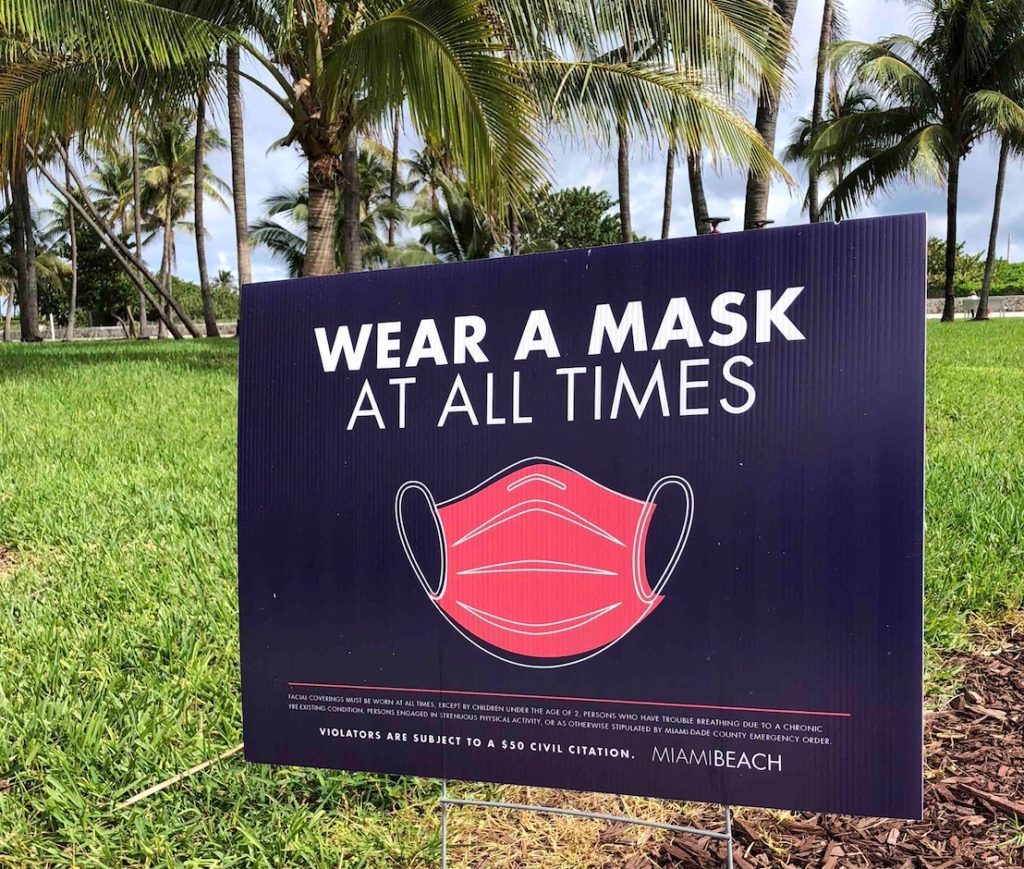 I also took part in an organized tours of the Everglades and the Marathon Turtle hospital.
The Everglade: The airboat usually holds 25. The staff said they were limiting the seating to half capacity but there were 20 people on my boat. Masks were not required on the boat since it was open-air. I kept my mask on and there was only my fellow traveling companion in my row, so it was still okay. The tour company required masks inside their building where guests purchase tour tickets, food, and souvenirs. Masks were not required on the ground outside the main building.
The Turtle hospital: They've limited their guided tours to half capacity. This allowed for spreading out inside the educational center. Their waivers are available online to limit touching the iPads inside their checkin area and asked were required for all guests and guides. Even the staff nurses wore masks.
Will the the other tourists follow the city ordinances?
The city ordinance of Key West requires masking inside or outside when you're within 6 feet of another person. During the day about 85% of the time this was followed. However, night on Duval Street was not a place for the COVID cautious. At best 5% of people walking around were masked. Restaurant capacities were full in most cases as well. There is not a lot of room on Duval to spread out making distancing at the restaurants difficult. While waiting for the sunset in Mallory Square face masks were also rare. If it's important for you to be away from unmasked strangers, staying inside a Key West resort, especially in the evening, would be the safest option.
In Marathon and Key Largo most of my time with other people was at restaurants, which were nicely spaced out, and at the hotel/resort pools. There were no issues in either place.
As with the airport, I was most impressed with Miami. The city ordinance requires masking at all times unless working out or eating. It was a very rare occasion when I saw someone without a mask on while walking around Miami. At restaurants people were masked except when eating, servers were masked, and tables were spread out. While in the area I visited South Beach, Mid-Beach, North Bech, Surfside, Wynwood, and downtown Miami. In all locations the people of Miami and my fellow tourists appeared COVID-serious as they followed the protocols. Hands down, I would come back again without hesitation.
—-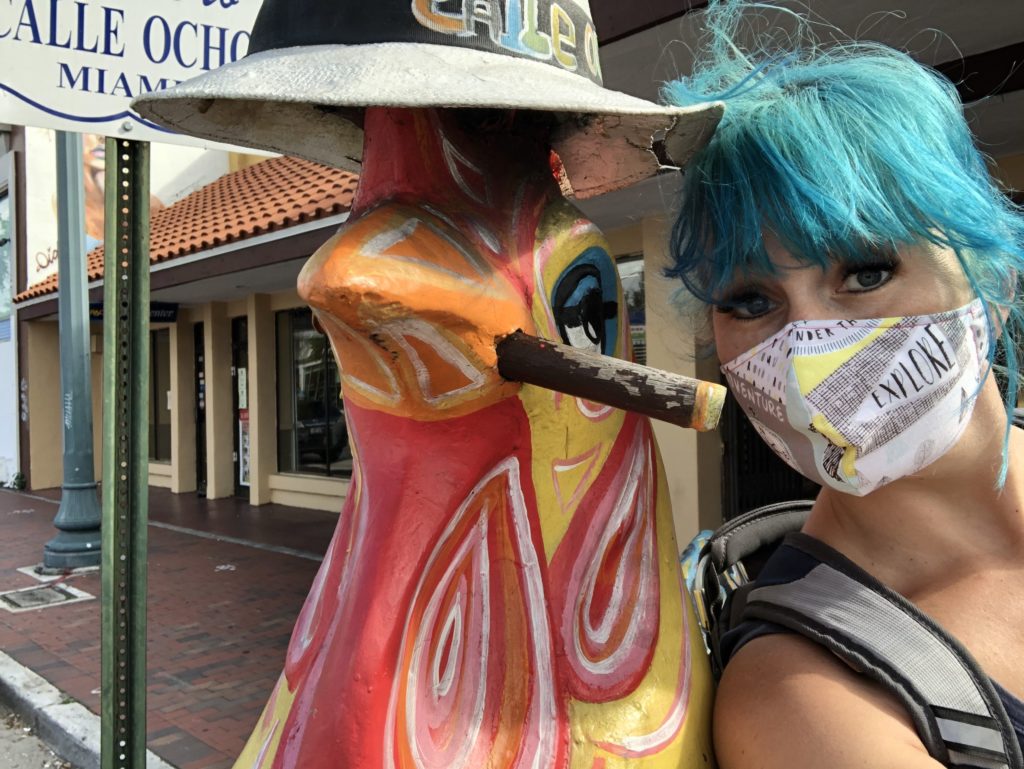 The decision to travel during COVID is extremely personal. Whether you choose to plan now and travel later or plan now and travel now, KaliKosmos Travel would love the opportunity to show you the Professionally Planned Travel difference. Contact us today and let us work for you.