After months of of waiting, Virgin Voyages is officially off and sailing … in the UK at least. And those who's been onboard, can't stop raving about their experience.
Thank you Scarlet Lady for a lovely week full of surprises and fun. You've got something really special going on. Miami is lucky to have you. ❤️ @VirginVoyages #ScarletLady #UKSummerSoiree pic.twitter.com/1udZ21tUei

— Rich (Visit With Us) (@visitwithrich) August 15, 2021
One CruiseCritic blogger commented that "This ship oozes actual cool. You feel like a rock star wandering about with flattering mirrors; crazy corridors studded with bright lights that dazzle and amaze in equal measure … we can't wait to see this ship in Miami. It's a game changer, for sure."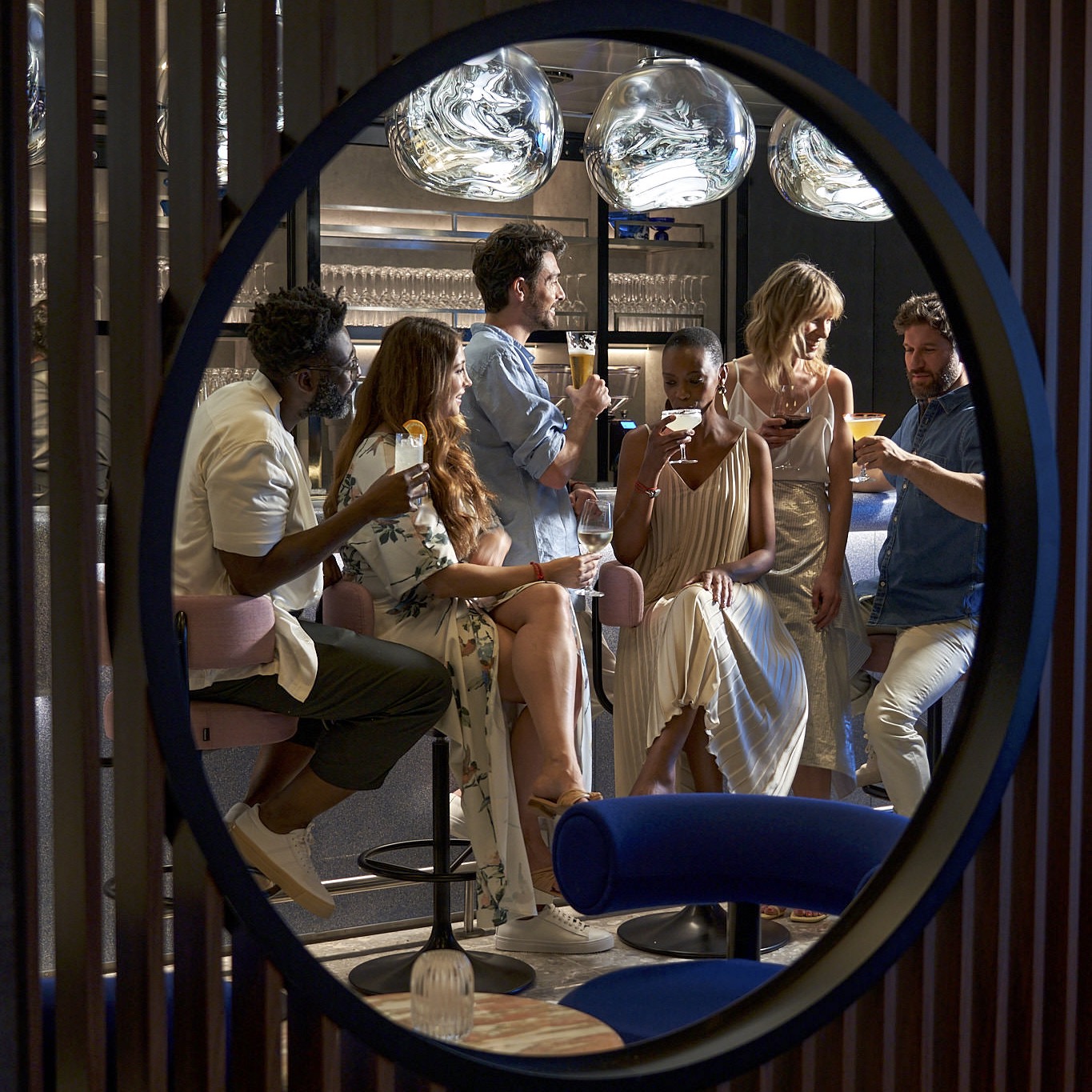 And, great news for US-based sailors, the Scarlet Lady is making her way across the ocean and will be at her home in Miami, ready to sail in October of 2021.
Here are a few things I can't wait to experience on board:
$600.00 worth of always included items (Basic WiFi, over 20 eateries, tips, group workouts, and basic bevvies are all included, all the time!)
No kids (Yes, that's right, it's adult by design and no one under 18 is on board!)
Tattoos at sea. (I'm not saying I'm signing up, but I definitely want to see it at work.)
The ship's Roundabout (aka the atrium — DJs, drag queens, pop up entertainment, and more! This is not your average at sea experience.)
Vaccination required for all. (Virgin Voyages is doing their part to keep sailors as safe as possible.)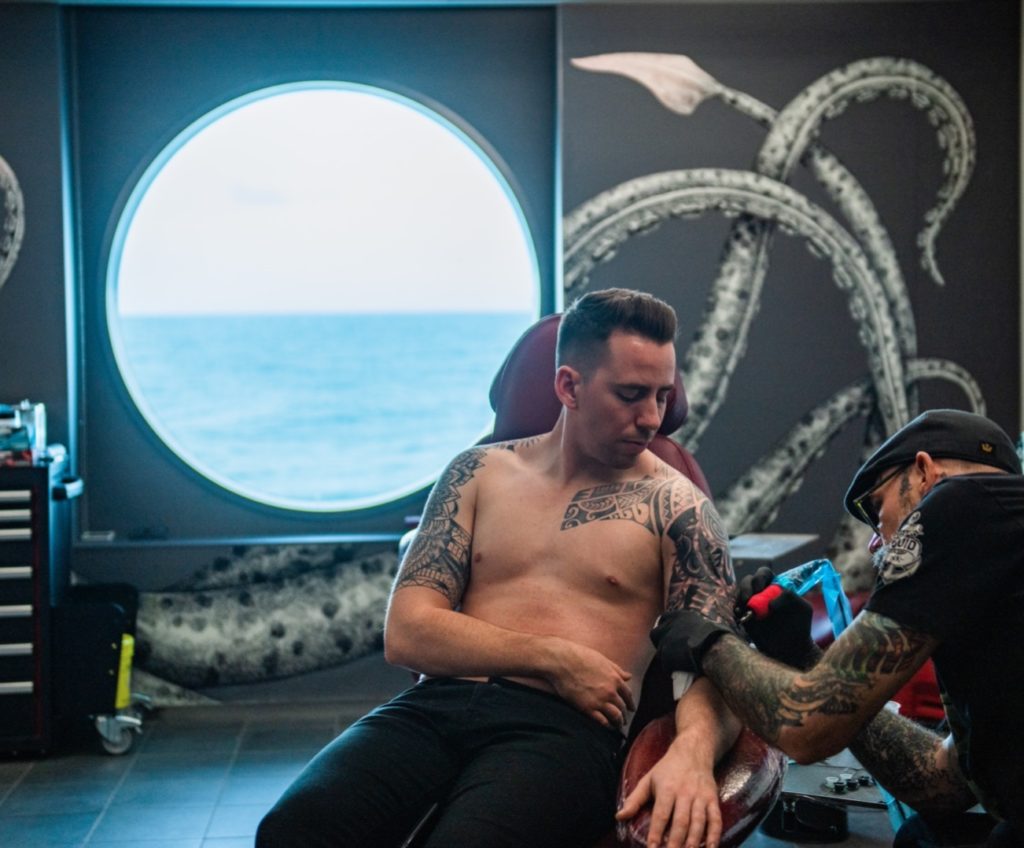 And, KaliKosmos Travel is excited to announce a way that you can experience a Virgin voyage along side our Virgin Voyages Certified First Mate, Katie Hartman. Come aboard and celebrate Galentine's Day with Katie on the Scarlet Lady's February 4th sailing to Puerto Plata and the Beach Club at Bimini.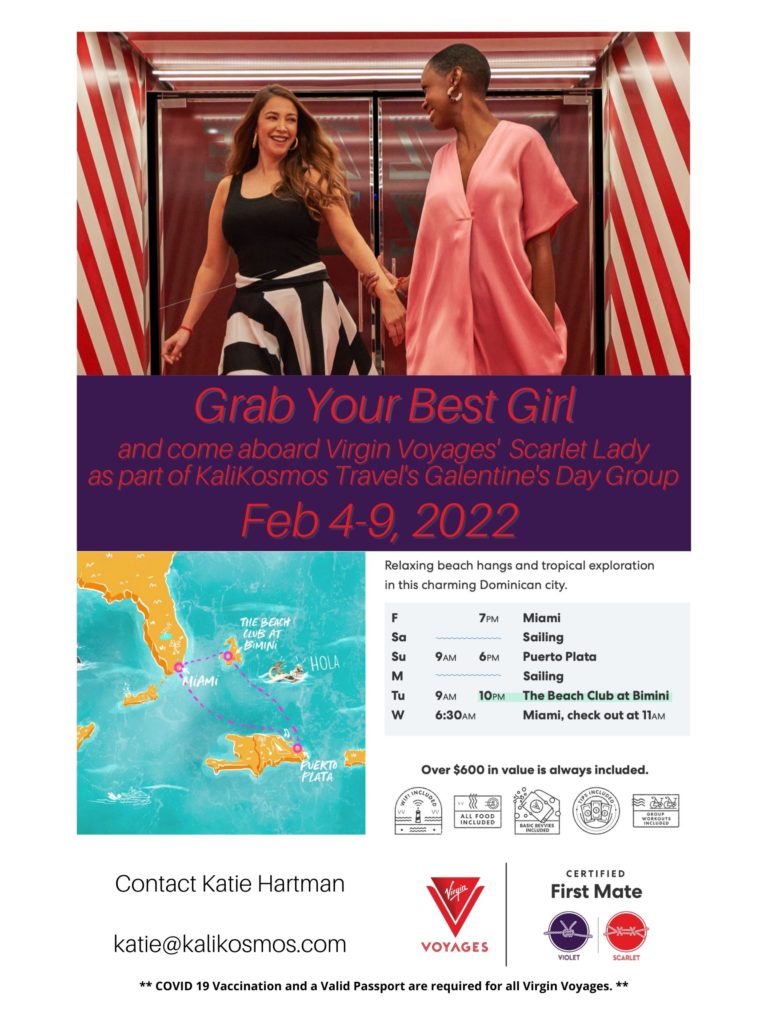 Contact Katie to secure your cabin for this or any other Virgin Voyages sailing.