I won't say "unprecedented." I won't say "uncertain times." I won't even say "out of an abundance of caution." We've all heard, we know, and we thought we'd be farther past it by now.
But, there is sunlight breaking on the horizon. The Caribbean and Mexico are open and accepting travelers, smaller cruise lines are gearing up for their return to the water, and domestic locations are more open as well. Even yesterday Alaska took away the "testing on arrival" requirement.
Since the start of 2021 more travel requests have been coming to our inboxes. People are not only ready to plan, they are ready to go. And when they go, they want to know a professional is here for them. That's why they turn to KaliKosmos Travel advisors. We're here to work for them and for you- turning travel dreams into amazing travel stories. … Yes, even in the midst of COVID protocols.
As travel plans begin to come together and more people hit the road and take to the skies, we'd like to remind all travelers of ways they can be safe and ready before and during their travel experience.
BEFORE YOU DEPART
Discuss travel insurance policies with your travel advisor, discovering what is and is not covered.
Understand the entry, exit, and re-entry requirements you will need to meet and be prepared.
Get tested for COVID-19 — even though some places do not have this requirement, knowing your COVID status before traveling keeps you from unintentionally spreading the virus.
Pack extra safety measures, such as additional masks, hand sanitizer and disinfectant wipes. To help, the TSA has increased the amount of hand sanitizer passengers can bring on board to 12oz per person.
Bring any medicines you may need on your vacation and pack at least 15 to 30 days' worth of extra medicine, just in case.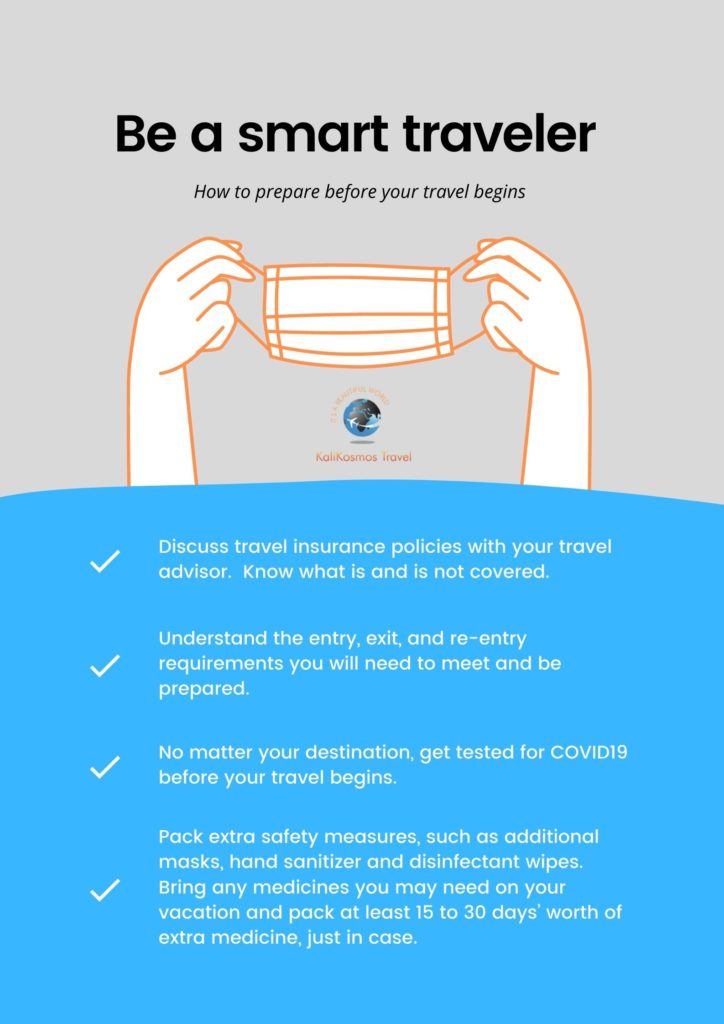 WHILE TRAVELING
At the airport, use touchless check-in options, ditch the bins at TSA checkpoints and maintain social distance while boarding. If you arrive at the airport early, wait at an empty gate until boarding is called.
On your flight, wear your face mask, wipe down the surfaces you will be touching, sit next to the window to decrease people walking near you and open the air vent to increase circulation.
If you check bags, stand back at baggage claim until most other passengers have left.
When renting a car, use advance check-in online or via the rental company's smartphone app to speed the process and reduce, or eliminate, the need for person-to-person touchpoints.
At the hotel, use options for online check-in, mobile room key and contactless payment, and ask for less frequent room cleanings to decrease other people in your room.
Wash your hands frequently, especially when arriving at new locations.
During any activities — such as eating at restaurants or visiting attractions, wear your mask as much as possible and keep a distance from others not in your party.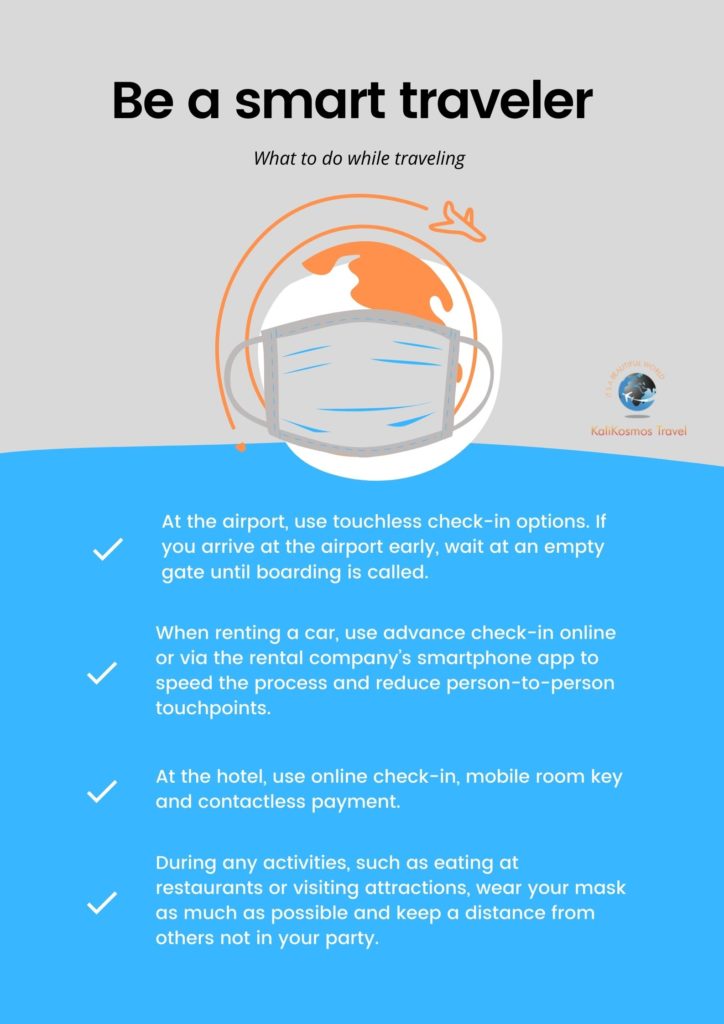 When you're ready to travel again, KaliKosmos Travel advisors will be here to put our professional planning skills to work for you. Contact us for details.